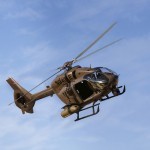 Communication is not an easy thing when you want to promote your brand new product. Helicopters do not escape the rule.
A funny example happened today with the new AAS-72X+ of Eurocopter North America. How can you sell an aircraft that was never really flown before?
The AAS-72X+ completes the AAS-72X, first proposal to the US Army.
Yesterday, Eurocopter NA unveiled its new aircraft (http://armedscout.com/news-press-rel-2009-2012/04-02-2012.asp). It corresponds to the upgrade of the civilian EC145 (http://www.blueskyrotor.com/performance/oneaircraft/Eurocopter/EC145-EC145-T2)
This upgrade may offer some performance and avionics improvements, but the only visible part is major: the well known fenestron has been implemented.
The problem is to illustrate the capability of the helicopter, even if it never flew in its military configuration before. What could you do? It's simple, use Photoshop! (Or Gimp)
Before:
After: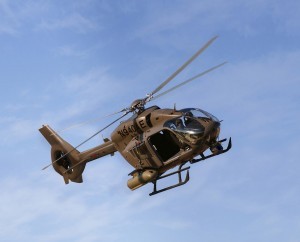 The trick was easy: add clouds in the background, replace the tail boom and rotor with a brand new fenestron drawn with a high performing 3D software, and there you are!
However, the fuselage remained the same, from the pilot's attitude to the aircraft's registration number.
Well played! It's always funny to notice those details. Also the fake picture is really beautiful, it looks like it was real! No doubt that many people took it for a real picture today.
But a simple question stays: why would you believe that an aircraft that was just unveiled, had already been flown by the US Army?