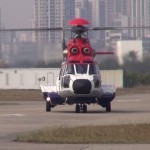 Part 4: to Yangon, Bangkok, Hanoi, attempting Macau
After landing, you refuel. It will not only be easier to start early the next day, but it will also lower the condensation in the fuel tank.
The aircraft is manned with 3 crew members: a pilot, co-pilot, and a flight engineer. The flight engineer is usually not necessary, but regarding the duration of the journey, his presence is comforting.
Unfortunately, the visa was not ready to permit the entrance into the Chinese airspace. The aircraft then had to fly back and spend the night in Macau…
Part 5: from Da Nang (Vietnam) to Macau (China)
After a 15-day journey covering a distance of 13908 km (7510 nautical miles) in a total flight time of 66 hours, this EC225, the fourth in a series of seven ordered in 2011, was delivered on time to its Chinese customer.