American Eurocopter is making a big deal of the X3 show in America. Indeed, the information/advertising campaign is quite aggressive, but we must admit that they display very pretty pictures.
The tour within the US looks promising. We can hope to see it in the major cities, from New-York to the western coast. Perhaps even in West Palm Beach, for a short greeting to its cousin the Sikorsky X2?
For now, the only photos available were taken while the aircraft was unloaded from the wide An-124.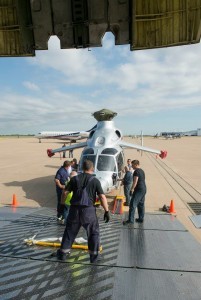 For a short week, American Eurocopter has also published a small game with questions to answer: have a look at www.facebook.com/AmericanEurocopter (now ended). Perhaps you will win a mock-up of the X3!
The important point though, is to understand what is meant behind the questions, particularly what the signification is of the "targeted weight class" of the X3. We know that they want to apply the concept to bigger aircraft, but from what we heard, the prototype may not be modified.
The less pictures, the more videos. Check them all, they're awesome!
Meeting the French high speed train
Announcing the American tour
Then, approved to fly in the US
Flight to the USA
Flying over Texas