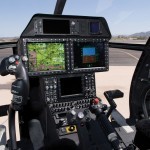 Cockpits of the modern helicopters proposed in the frame of the Armed Scout competition are all mainly composed of screen displays. The era of traditional airspeed indicators, compass or artificial horizon is almost over.
Boeing AH-6i
Equipped with the probably most impressive interface in this competition, Boeing provides a cockpit highly similar to the oncoming Block III of AH-64D Apache.
Boeing says "These displays can be used to present to either crew member the electro-optic/infrared sensor video, engine data, moving map display, armament and identification friend or foe transponder control"
Nothing less than a small Apache! This argument is hard to beat… Nevertheless, we can hope for an improvement of the helmet mounted sight. Ed Macy's book "Apache" describes the monocle on the pilot's left eye as causing "terrible headaches as the left and right eye competed for dominance." He needed "two years to learn how to 'see' properly".
This is clearly not an optimised interface.
The displays provide all information necessary to the pilots in flight and on a mission; a complementary helmet mounted sight with flight (and combat?) data may simply be the cherry on the cake.
Eurocopter AAS-72X
Unfortunately, no cockpit picture of the military aircraft has been released yet. We can have a look at the EC-145 instead:
With a sufficient number of screens to display every information needed for a mission flight, the panel looks interesting.
The AAS-72X features a Helionix glass cockpit, accommodating two crew members. The cockpit is equipped with liquid crystal displays, avionics suite and a four-axis autopilot system. The modern avionics include vehicle and engine management display (VEMD). (source)
Helionix is the most modern state of the art of the Eurocopter cockpit. It is fair to expect the best.
However, helmet equipment does not look ready to show off for now. The mount lets expect installation of at least night vision goggles. Standard NVG? Well, it might only be due to current demonstration limitations. In fact, the brand new EC635 is equipped with a Helmet Mounted-Sight Display (HMSD). (source)
It seems very realistic to expect state of the art pilot and gunner helmets with flight and combat symbology. (here the Tiger)
MD540F
Garmin G500 and Elbit Helmet HDTS should be the core of the pilot's interface. Dealing with equipments off the shelf, MD is ensured to get an aircraft flying well enough, but probably not providing the state of the art of military Human-Machine Interfaces.
Agusta Westland AW139M
No interesting cockpit photo of AW139M were released until today. We can compare the civil (above) and  military (below) versions, but unfortunately, no hint is given concerning the mission systems.
It feels like flying a big passenger airplane. In fact, it's not wrong, the aircraft is first dedicated to passenger transport. Weapons are optional; this helicopter does not look like being optimized for reconnaissance and scouting missions.
Bell OH-58 F (Block II)
Two models and one cockpit are displayed on http://www.scoutsout.com. The only difference will actually be in the engine performance, much greater for the Block II.
So what do we have? A "digital cockpit"!
Single pilot operable
2 5×7 Color displays
1 6×8 Color display
Dual, independent map channels
Control and Display Subsystem version 5 (CDS5)
SWB 4 and Beyond
Improved MCPU
Emergency Standby Attitude Indicator (ESIS)
All information are available to the copilot, even if the helicopter can be flown by a single pilot. Wide displays, safety analog dials, everything's here but not much more. Furthermore if we believe the picture below, no high-end helmet is available for the pilots.
Conclusion
The most convincing proposals are obviously Boeing and Eurocopter. If you want the best for your troops during the next decades, you will not just afford simple off the shelf equipments. You want modern and highly performing equipments.