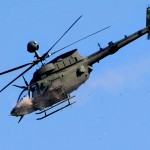 The US Army launched a competition to choose its future armed scout helicopter replacing the ageing OH-58D Kiowa.
This post describes the armament and mission systems proposed for each helicopter. The common characteristics are ballistic weapons (cannons, guns, rockets), guided rockets and anti-tank missiles.
Apparently, not all prototypes are equipped with missile/radar threat detection systems (chaff and flares), but aircraft eventually fielded may have it anyway.
All are equipped with emergency jettison systems.
Two aircraft are not presented here: OH-58D Kiowa and Sikorsky S-97 Raider. The first possibility is a simple no-go from the Army, choosing not to chosse and going only with a retrofit of the current Kiowa fleet. The second aircraft does not exist, except on paper. Therefore everything is still possible and not clearly defined.
For info: 2,75" = 70 mm; 0,5" = 12,7 mm; 0,3" = 7,62 mm
MD Helicopters: MD540F (link)

4 weapon stations:

70 mm rockets
laser guided rockets (undefined)
Hellfire missiles (Laser-guided)
12,7 mm machine gun

other equipment:

no missile or radar threat sensor highlighted yet
no door mounted machine gun
Boeing AH-6i (link)

2 or 4 weapon stations:

 7 x 70 mm rockets launcher (M260)
M-134 minigun (7,62 mm Gatling)
GAU-19 minigun (12,7 mm Gatling)
Hellfire missiles (Laser-guided)
laser guided rockets (probably Lockheed Martin DAGR, providing compatibility with Hellfire)

other equipment:
Agusta Westland AW139M (link)

2 weapon stations:

12,7 mm machine gun
70 mm rockets pods
Air-to-Surface Missile (Hellfire?)

other equipment:

Electro-Optic / Infra Red (EO/IR) device (looks like a SAFIRE on this picture [source])
Missile Approach Warning System (MAWS) and Counter Measures Dispensing System (CMDS)
Modular armour, armoured crew seats and armoured floor (link, click "Equipment")
door or window machine guns: 5,56 mm, 7,62 mm or 12,7 mm
 Eurocopter AAS-72X and AAS-72X+ (link)

2 weapon stations:

12,7 mm machine gun pod (HMP400)
7 x 70 mm rockets launcher (M260)
Hellfire missiles (Laser-guided)
DAGR Laser-guided rockets from Lockheed-Martin

other equipment
 Bell OH-58F and Bell OH-58F Block II Kiowa (link)

2 weapon stations

M3P 12,7 mm machine gun
7 x 70 mm rockets launcher (M260)
Hellfire missiles (Laser-guided)

other equipment
Conclusion
All aircraft fulfil the basic requirements. The current Kiowa flies with rockets, 0.5 caliber machine guns and Hellfire missiles. This is the minimum required for the future armed scout. Nevertheless, the guided rockets capability will be welcome.
The question of a bigger caliber weapon may be raised and the answer must consider the definition of an armed scout. This helicopter will need only short range weapons for its self defense within 1 km. 30mm cannon is obviously too powerful for a thin and small aircraft. 20mm caliber have already been seen on UH-1 and EC635, but the weight and the recoil forces make it difficult to install; furthermore, the range capability of the 20mm does not imply a sufficient accuracy ensuring the safety of nearby friendly ground troops. Firing from a distance will be made preferably by attack helicopters providing better cannon accuracy.
Considering the entire mission package, you obviously need missile threat detector and ballistic protection is a big advantage.
Agusta Westland AW139M has still to demonstrate the full weapon system, particularly in the definition of the missile performance which has apparently not been tested yet. On the contrary, the equipment package is very complete and provides mission capability as well as sufficient protection to the crew.
Boeing AH-6i did not show everything. Unmanned capability will be available as well as powerful sensor systems. The choice of 2 or 4 weapon stations is a great advantage, but the performance must still be demonstrated in hot and high conditions.
Eurocopter AAS-72X has promising specifications. Laser guided rockets will be welcome. They have not been announced yet, but since Lockheed-Martin received the responsibility of the mission system development, it would be surprising not to see them on this helicopter. A big strength of this aircraft is a configuration combining a complete weapon package and ballistic protections. If American Eurocopter and Lockheed Martin demonstrate the capability, there is no doubt that pilots will be highly interested in an aircraft that keeps their buttocks in a safe seat.
MD540F is a new aircraft but the equipment looks to be unfortunately limited to the minimal requirements, such as the standard weapons and a FLIR/video camera. This configuration would not correspond to a significant improvement of the current Kiowa.
Last but not least is the Kiowa Block II. The new weapon package provides improved sensors, but only the same weapons as the current Kiowa. It is still not clear if the helicopter will be proposed with Lockheed Martin DAGR, even if the capability has been proven 2 years ago. It would be also interesting to determinate whether Kiowa Block II can be equipped with armour plates in hot and high conditions.
Considering all these arguments, the top aircraft is AAS-72X. All performances are promising, even in hot and high conditions. AW139M is performing as well, but it may be too big to correspond to a realistic armed scout.
Boeing AH-6i could be too light. Nevertheless, the future drone version should be highly interesting.
Kiowa OH-58F Block II would be the second best choice. Beside the performance and the weapon package, the experience of the Bell Helicopter company will work in its favor.