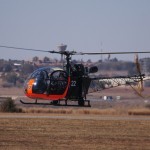 Once every month, the South African Air Force museum in Zwartkop, Gauteng, flies its helicopters. This small air show is opened to the public, but only few people actually come. Unlike major crowded meetings, this makes the event very nice to attend.
What would you see there?
Helicopters, of course, and other aircraft, such as the Harvard. The helicopters are military, with the corresponding colour and markings. Consequently, it is not so easy to distinguish them from the landscape. Photographers would complain that the subject does not really stand out.