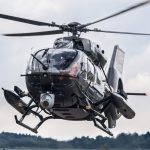 The latest combat aircraft from Airbus Helicopters flies in the german skies.
Following the version for special forces, the heavily armed helicopter is a proud little brother of the Tiger.
H145M enters the growing market of the light attack helicopters, joining the Bell 407, EC635, or MD530.
There will be firing campaigns in Hungary and Sweden, thus even more photos to expect!