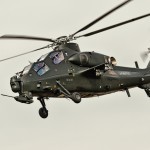 you will recognize:
http://www.blueskyrotor.com/performance/datasheet/Changhe__Aircraft/WZ_10-WZ_10-SAEC
http://www.blueskyrotor.com/performance/datasheet/Harbin__Aircraft/Haitun-Z_9-W
http://www.blueskyrotor.com/performance/datasheet/AviCopter/AC313-AC313
and some Mi-8/Mi-17
from http://sobchak.wordpress.com/2013/12/30/video-chinese-army-aviation-was-apocalypse-now-ha-fatto-scuola/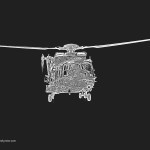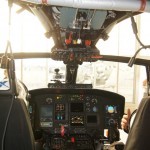 This article refers to the great report by Ernie Stephens in Aviation Today
How to speed up when you're in the X3? …easy: push the button!
Which one? On the picture above, there is only a thrust control lever. As Ernie explains:
In the X3, the TCL on the center console isn't touched. Forward thrust is applied by thumbing a small, momentary-contact, hat switch mounted on the collective. Push it forward to increase the power, tap it backwards to decrease it. The TCL moves forward and back as the hat switch is actuated, but is only manipulated by hand as an emergency procedure if the hat switch fails.
The TCL, the handle located on the centre console, is actually not used during the flight. It is only here as a backup.
Now, look at the collective below and find the hat switch.
"Are you ready to go flying?" asked Jammayrac. "Yes, sir," I replied. "All you have to do is push the throttle switch forward," he instructed. "Don't do anything else." And that was when the X3 stopped being a helicopter and became a King Air!

Regardless of whether I "beeped" the throttle hat switch on the collective or held it forward, I could feel the power come in.
source:
http://www.aviationtoday.com/the-checklist/Pilot-Report-The-Exciting-Experimental-Exceptional&thinspX3_76928.html#.Up4dtsTuKT0
More photos:
http://www.blueskyrotor.com/performance/datasheet/Airbus__Helicopters/X3-X3