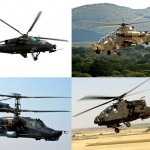 Attack helicopters are strong, powerful, sophisticated, fast and lethal. Because they are a major asset for the commanders on the field of battle, they are equipped with the most advanced technologies and generally define the new state of the art during the time of their development.
13 attack helicopters
Considering the models without the derivatives and evolutions, 13 different aircraft are actual attack helicopters. There are domestic and international programs.
These aircraft are often the symbol of diplomatic relationships, today as well as during the Cold War.
Airframe and armaments are generally domestic productions, but engines and equipment often come from the international market, regulated by diplomatic and political decisions (e.g. ITAR).
They are generally the fastest helicopter in a manufacturer's range of products.
The first attack helicopters were imagined in the mid 1960s in both Soviet Russia and America. Bell launched the Model 209, which first flew in 1965 and then produced the Cobra. AH-1G was fielded for the first time in Vietnam.
USSR's Mil design offices imagined the Mi-24 Hind as a battle tank, capable of carrying troops as well as combatting. It was followed by Mi-25, Mi-35 and many variants.
One decade later, new attack helicopter programs were launched. They were developed from the scratch, unlike the Cobra and Hind: Cobra has an airframe based on UH-1 Huey and Hind is also a troop transport helicopter.
Kamov Ka-50 "Chernaya Akula" (Black Shark) was launched in 1977 and made its maiden flight in 1982. Boeing AH-64 Apache (Hughes Model 77) flew in 1975 and the program started with official support during 1976.
Another decade later, USA started RAH-66 Comanche programme, which was eventually cancelled due to budgets cuts. This aircraft should have been the best attack helicopter ever made, providing high performance and stealth technologies. This aircraft has never really entered active duty, but it defined the state of the art. Some say that its technologies were used to develop the stealth Black Hawk.
Russia started Mil Mi-28 "Night Hunter" (NATO reporting name "Havoc") in 1980 and flew it in 1984. This project was competing against Ka-50. Years later, the Russian government decided to slow down Mi-28 and to push Ka-50. After unsuccessful results of Ka-50, Mi-28 was pushed forward again.
Tiger is a multi-domestic programme launched in 1984 by both France and Germany (later with Spain). MBB and Aerospatiale later merged to become Eurocopter. The helicopter war first designed to slow down Soviet tanks in case of an invasion during the Cold War. The first flight happened in 1991.
Italy also wanted its own attack helicopter, which resulted in the Agusta (later Agusta Westland) A129 Mangusta, flying for the first time in 1988. Turkey decided to integrate this aircraft to its armed forces too. Negotiations started in 2007 and the company TAI took the responsibility to adapt and modernize several systems.
After the lack of success of the Kamov Ka-50, the Ka-52 was launched with a wider consideration of the battefield, including missile systems and performing data links. Ka-50 and Ka-52 would operate together, for instance with a Ka-52 designating the target with a Laser beam and a Ka-50 launching the missile.
China decided to produce its domestic attack helicopters, which resulted in two parallel programmes : WZ-10 and WZ-19. WZ-19 is based on the airframe and mechanical parts of Eurocopter Dauphin, produced under licence in China (named Z-9).
The WZ-10 aircraft is a much more discreet programme: only few pictures and data have been released yet.
South African company Denel started the AH-2 Rooivalk in 1993 and flew it in 1997. Mechanical parts were originally based on Eurocopter Puma, produced under licence as Oryx.
The youngest attack helicoper LCH (light Combat Helicopter) is developed by HAL in India. The programme started in 2001 and the aircraft made its maiden flight in 2010. The programme encountered several difficulties to meet the target MTOW of 5,500 kg.
Bonus:
Kawasaki OH-1 Ninja
The Ninja is not a real attack helicopter because its principal armament is primarily dedicated to aerial suppression. It is a Japanese domestic development.
Characteristics
All attack helicopters have air-to-air and air-to-ground combat capabilities.
All have a turret or mobile cannon.
All have rocket launchers.
All have at least 4 weapon stations.
All have TV and FLIR capabilities, as well as Laser designation and range finder.
All have 2 engines.
All have anti missile, chaff and flare protection, but not all have armoured ballistic protections.
Not all have a radar.
Not all are equipped with helmet mounted sight displays.
Heaviest: Mi-24, Mi-28 => 12 t
Lightest: Ninja OH-1  => 4 t
Max range (without auxiliary fuel tanks): Cobra, Tiger  => 750-800 km
Max endurance (without auxiliary fuel tanks): Rooivalk  => 04 hours
Max power/mass ratio: Comanche  => 0,4
Min power/mass ratio: Ka-52  => 0,2
The map below displays the countries with a national (and in cooperation) attack helicopter programme.