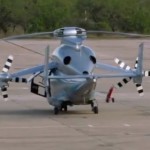 Should we call it X3e, like all the current new models at Eurocopter? Or X3i? Or X3+? Or X3²?
Yesterday, Eurocopter presented a new concept, a helicopter where the pilot is only an option. The EC145 c/n 9001 is the usual research aircraft of the company, known recently for the "Blue Pulse" program, intended to reduce the rotor noise.
However, not only the new drone was presented. A small surprise was displayed at the end of the movie. You thought the X3 was there only by chance? Of course not!
The Istres Air Base is the most suitable flight testing area in France. All previous test flights of X3 were made there and even the main runway was adapted to land the American space shuttles.
A closer look onto the prototype makes it clear: the rotor head and the top of the airframe have been modified.
Yes, the aircraft is being prepared for very high speeds. Eurocopter's X3 is becoming a fierce competitor to Sikorsky's X2. Mr Bertling is preparing to leave his seat as a CEO to Mr Faury next week and this challenge is indeed a great gift: the company displays its innovative skills.
Do you remember the DGV, Dauphin Grande Vitesse, which became once the fastest helicopter with 372 km/h in 1991? The aircraft never forgot its appetite for the records. In fact, some parts of the Dauphin DGV were removed and the helicopter was modified to build the X3.
Now, for the pleasure of your eyes, enjoy these pictures from the movie.