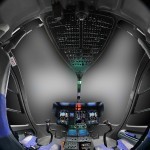 Airbus Helicopters certified its EC145 T2 recently. The new aircraft is based on the famous EC145 aka BK117 C2.
Both designations EC145 T2 and BK117 D2 refer to the same aircraft.
Enhancements incorporated in the T2 version of the 4-metric-ton category EC145 include new Arriel 2E engines and the company's signature Fenestron® shrouded tail rotor, along with upgraded main and new tail rotor gear boxes, and an advanced cockpit that uses Airbus Helicopter's innovative Helionix digital avionics suite with 4-axis autopilot.
More photos available at airbushelicopters.com