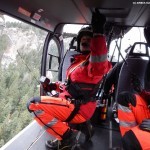 November 2014 –
After delivery in September this year, the German rescue company ADAC proceeded with their first rescue winch operations training on the EC145 T2. The training took place in the Alps, southern Bavaria. Several teams enjoyed the large cabin suitable for 10 crew members with their full rescue gear. The aircraft is equipped with a folding rescue winch over the cabin side door.
All ADAC helicopters come with a yellow livery and the callsign "Christoph". They are famous throughout all Germany, and air traffic controllers do their best to provide them with the fastest and safest flight routes.
EC145 T2 is a major evolution from the EC145. The EC145 belongs to the BK117 family. The other technical designation is BK117 D2.
Enhancements incorporated in the T2 version of the 4-metric-ton category EC145 include new dual-FADEC Arriel 2E engines and the company's signature Fenestron® shrouded tail rotor, along with upgraded main and new tail rotor gear boxes, and an advanced cockpit that uses Airbus Helicopter's innovative Helionix® digital avionics suite with 4-axis autopilot.
The first EC145 T2 was delivered to another German rescue company, DRF Luftrettung, in July 2014.
More photos are available on airbushelicopters.com