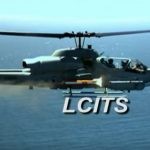 The video illustrates a typical HMI struggle: to which switch can we allocate a secondary function?
In this case, the Bell AH-1W Super Cobra is equipped with prototype Hydra 70 2,75 inches rockets fitting an infrared seeker. Currently, most of the guided rocket are Laser-guided.
For this airborne test, the integration of the guided-rocket (with inrared seeker, not Laser) did not foresee the installation of a new switch-ON button, but rather allocated the function to an already existing search light command (see the video at 4:36). Therefore you cannot have both the guided rocket and the search light installed at the same time. It would be bad to forget it while you're flying.
Dear pilot, if you want to light up your target, don't blaze it!
via alert5.com