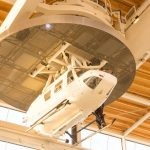 Bad Tölz is home of the winch training center for the german rescue teams. Located close to the Alps in the Southern Bavaria, Germany, the ZSA (Zentrum für Sicherheit und Ausbildung) provides indoor facilities to the mountain recue teams and helicopter crews.
Inside a room of approximately 1500 sqm and a height of 20 meters, two cranes simulate helicopter flights.
The first helicopter is a lucky BK117 that, instead of being scrapped, was shipped from the US back to Germany. It was then dismantled, the structure was kept, with the windows, the doors, and the landing skids. An electric winch was installed on a side. Fans create the downwash, and strobe lights simulate the shadow of the rotor blades hiding the sunlight.
The other aircraft was built by the Austrian company AMST. The BK117 was not sufficient to simulate bigger helicopters such as the Super Puma or NH90. The equipment is similar to the BK117, with small improvements. The winch can be positioned differently, closer to the fuselage, or farther out. The doors can slide to the front or to the back. All this will depend on which type of aircraft you are suppose to be flying.
The aircraft are piloted from the cockpit like real helicopters. Even though the behaviour is not meant to be realistic to the pilot, the platform provide the 6 axes of movement: translation forward and backward, to the sides, up and down, pitch, roll, and yaw.
The simulators are not meant to train the pilots, but the cabin crews: winch operator, rescuer under the hook, or any other personnel who has to be lifted or dropped from a helicopter. The benefits are obvious: training costs drop to a fraction of the flight costs, the flight can be paused at any moment, and even the wind and noise can be silenced in order to practice quietly.