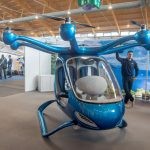 08th April 2017, Friedrichshafen
Friedrichshafen is home of the Zeppelin, on the side of the Constance lake. Every year, the AERO attracts its lot of light aircraft manufacturers and aviation passionates.
While many gliders, small airplanes, drones, and ultra lights were on display, we focused on the helicopters.
Outside display
Inside the hangars, electric helicopters
Bell on display
Drones
Ultra light and small helicopters
Military on display
Time to leave
Spending the day among the airplanes is fun, but leaving the show by plane is adding even more fun.